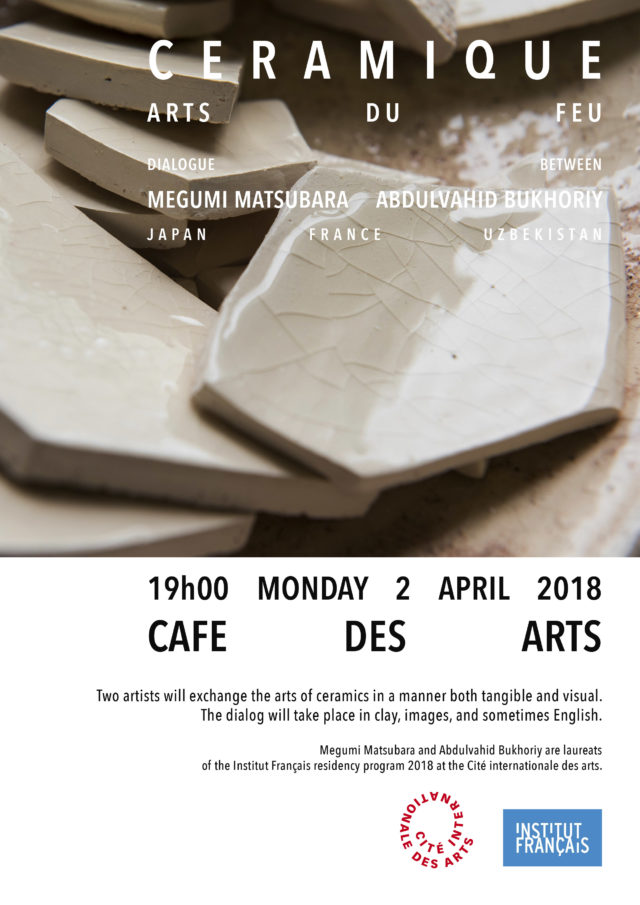 CERAMIQUE ARTS DU FEU
Dialogue | Megumi Matsubara & Abdulvahid Bukhoriy
–
19h00 Monday 2 April 2018
Two artists will exchange the arts of ceramics in a manner both tangible and visual. The dialog will take place in clay, images, and sometimes English.
Megumi Matsubara and Abdulvahid Bukhoriy are laureates of the Institut Français residency program 2018 at the Cité internationale des arts.
–
Lundi 02 avril 2018, à 19h
Dialogue entre Megumi Matsubara et Abdulvahid Bukhoriy. Les artistes échangeront sur les arts de la céramique d'une manière à la fois tangible et visuelle. Le dialogue se fera en utilisant l'argile, les images et parfois l'anglais.
Megumi Matsubara (Japon/Maroc) et Abdulvahid Bukhoriy (Ouzbékistan) sont en résidence à la Cité internationale des arts par le biais du programme de l'Institut français.