Megumi Matsubara's current solo exhibition at Voice Gallery "WALK STRAIGHT"
is now extended through the end of October.

Friday 3 October h. 19:00
Artist talk at Voice Gallery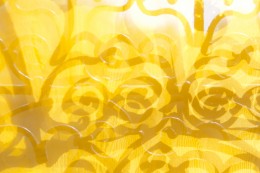 MEGUMI MATSUBARA "THE TALE"
Megumi Matsubara works individually as an artist and collectively as an architect through Assistant, an international & interdisciplinary design practice that she co-founded with Hiroi Ariyama in 2002. Based on an architectural approach and inspired by urban environments, she composes spatial narratives combining the use of diverse media such as installation, sound, photography and texts. Through constantly rearranging the existing environments, her works challenge the balance between presence/absence.
Megumi Matsubara lives and works in Japan and Morocco.
In the beginning of 2012 Megumi Matsubara came to Morocco for the first time. Since then, the artist has shown eclectic artistic practices within the country.
Her first work in Morocco; Void/Between, was a site-specific installation for the main opera hall of Theatre Royale, for Marrakech Biennale 4. In Summer 2012, Rêveurs Rêve Rêves, inspired by her encounter with the blind children in Marrakech, was shown as the myriad architectural interventions at La Maison de La Photographie de Marrakech that included light installations, postcards, and an imagery work entitled A proposal for a textbook to learn Braille, English, and other languages, developed from the conversations and workshops with the children.
Continuing her subject of blindness and dreams, she presented Une Chambre Rouge; a work dedicated to Fès Medina, during the 6th edition of Rencontres Internationales de la Photo de Fès in December 2012. In Spring 2014, her solo exhibition The Blind Dream took place at Douiria Mouassine; a 400-year old historic architecture in Marrakech, on the occasion of Marrakech Biennale 5.
Currently, Megumi Matsubara is based between Fès and Tokyo. Her most recent work includes an ongoing series of books from her own publishing house Published by Anamnesis, established in Fès in 2014. Shaped around her words and images at its point of departure, the project engages eloquent individuals; writers, editors, translators, designers, printers, from East and West, South and North. Following the first book "The Tale of the Japanese and the Mosquito" presented in Spring 2014, "The Tale of the Japanese and the Garden" will be presented this Autumn.
During the evening at Voice Gallery, Megumi Matsubara will talk about this current book project, and will introduce the trajectory that led her to conceive the project. The talk will encompass the artist's personal narratives behind her previously developed works; the invisible quality that is consistently embedded in her work.