BEYOND THE LINES is an online documentary film series presented by the Japan Foundation and produced by CEKAI, featuring six Japanese artists and their works.
The series consists of six short films; each focuses on one artist. The full episodes total 40 minutes, building up to show what's in the proximity of the artists' souls. The curators listed below were behind the intimate interviews.
Broadcast on the Japan Foundation's YouTube channel as an online exhibition from March 2021 onwards.
[*Images above: film excerpts from the ep. Megumi Matsubara]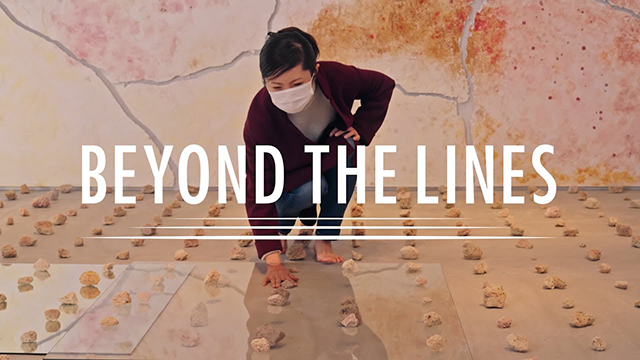 > Jump to BEYOND THE LINES ep. Megumi Matsubara
> Jump to BEYOND THE LINES Playlist for all episodes
BEYOND THE LINES
Film documentary / online exhibition comprising a total of 6 episodes
The Japan Foundation is organising an online exhibition by six artists to present their new works, along with interviews, to give viewers at home the opportunity to discover and enjoy their art.
Artists:
Oscar Oiwa
Tomoko Konoike
Koji Tanada
Nerhol
Megumi Matsubara
Tadanori Yokoo
Supervision/Curators:
Shinobu Nomura (Tokyo Opera City Art Gallery)
Keisuke Mori (Chiba City Museum of Art)
Masahiro Yasugi (National Museum of Art Osaka)
Cooperation:
Artizon Museum
The National Art Center, Tokyo
The Museum of Modern Art, Saitama
Towada Art Center
Yokoo Tadanori Museum of Contemporary Art
Void+
Yutaka Kikutake Gallery
Production:
CEKAI
Directed by Taichi Kimura
Camera by Seiya Uehara
Produced by Takuma Hiramatsu & Tetsuro Shinoda
Presented by the Japan Foundation